Vice Squad
Wednesday, November 14, 2007
What I Have Been Up To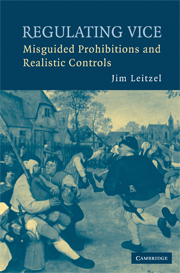 In the
initial Vice Squad post
of September 18, 2003, I noted that I had "recently started to write a secondary text" for my Regulation of Vice class. On
June 6, 2005
, Vice Squad entered a year and a half of semi-hibernation, which I claimed was undertaken largely "to devote myself to finishing up the book I have been composing (decomposing?) on vice policy." Today, about four and a half years after starting work on the book, I am happy to report that
Regulating Vice
has sprung (or stumbled) into existence. The
Amazon page (for the paperback) is here
.
There are no kind words from famous folks on the back of the book --
hmmm
, was this intentional, or despite heroic efforts, was the publisher unable to conjure up such
encomia
? In any event, I will provide my own ringing endorsement of
Regulating Vice
: "All the tedium of Vice Squad, without the brevity." Everyone should buy a copy -- er, two copies, one
hardback ($85 at Amazon
, so appropriate for the library at Alexandria) and one
paperback (for you, dear Vice Squad reader, only $29.99 at Amazon
.) When I return to Chicago from the
conference in New Orleans
I'll have lots more to say about
Regulating Vice
; for now, though, I must dance.
Labels: Regulating Vice, solipsism