Vice Squad
Monday, March 01, 2010
"...their ends, none of our own"
Of 1,577 posts, this, the poor last, we make from your pixels.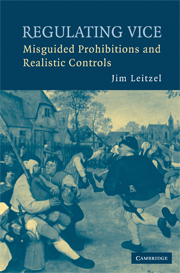 The plan was to
continue to blog a sort of summary
of
surprise bestseller

Regulating Vice
, and then to fade away. Alas, "
Our wills and fates do so contrary run
..." that events have taken a different turn, and we exited the blogostage in silence and without conscious intent. Apologies for this neglect.
But while Vice Squad lasted, it was exhilarating for me. Thanks to all of you who made it so. Yesterday I launched a successor blog of sorts, though one much more limited in scope:
Self-Exclusion
, a Vice Squad obsession. "
Now bless thyself: thou mettest with things dying, I with things newborn
."
[Update: OK, this proved to be not quite the last post....]
Labels: Shakespeare